Discussion Starter
•
#1
•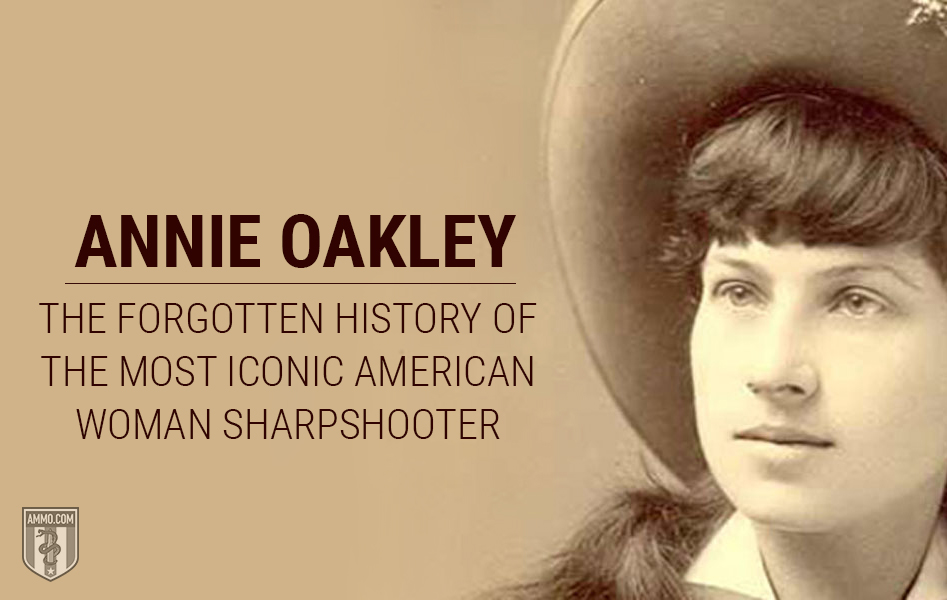 ​
Phoebe Ann Moses (or perhaps Mosey) was born on August 13, 1860, to humble beginnings. The daughter of Quakers, America's first female superstar grew up log-cabin poor in the rural western Ohio county of Darke. From this rough start to entertaining world leaders, Phoebe Ann Moses, better known as Annie Oakley, was not only an icon of the American West, she was, and still is, a hero to women and girls from coast to coast.
Annie's story begins as the youngest of eight siblings. Already poor, the family became desolate when Annie's father died when she was six. Her mother remarried quickly, but was widowed a year later and soon after bore another child. Left with too many mouths to feed and little choice, Annie's mother turned Annie, then nine, and one of her sisters into the care of the superintendent of the Darke County Infirmary, a home for the elderly, orphaned, and mentally ill.
In exchange for her room and board, Annie helped care for the family's children and the Infirmary's patients. While there, she learned to sew and decorate clothing, a skill that she used for the rest of her life.
Annie was then transferred to a neighboring home, to a family with a new child, and was told she would receive an education and $.50 a week for her services. Instead, she was treated like a slave, abused, and neglected. Eventually, Annie ran away from the family that she only referred to as "the Wolves" and made her way back to her mother's farm.
By this time, Annie had become extremely proficient with a long gun and began to shoot and trap local game. She harvested so much, she was able to sell meat to the local grocer, who in turn provided fresh game to hotels and restaurants surrounding the Cincinnati area. Annie saved her wages and was able to present her mother with $200 to pay off the family's mortgage.
Annie Becomes "Little Sure Shot"
In 1875, famous sharpshooter Frank Butler visited a Cincinnati hotel and placed a $100 bet that he could outshoot anyone around. The hotel's owner contacted the 15-year old girl he'd been buying meat from and asked her to compete against Butler. Annie did. And she beat him.
Then she won his heart. They were married a year later, 10 days after her 16th birthday.
The two started touring together. While always Mrs. Frank Butler, the young girl from Ohio assumed the stage name Annie Oakley, and soon took the limelight from her husband. Annie eventually joined William "Buffalo Bill" Cody's Wild West Show, which she would remain not only a part of, but the star of, for 16 seasons.
During that time, she was befriended by Chief Sitting Bull. After watching her show, he sent her $65 and a request for an autographed photo. Annie sent him a photo, his $65 back, and a note that said she would visit in person the next day. The two became friends and Sitting Bull adopted Annie, giving her the Indian name Watanya Cicilla, which translates to "Little Sure Shot."
The Wild West Show travelled across the United States and to Europe. In 1887, Annie performed in London at the Golden Jubilee of Queen Victoria, where a half a million people watched her act in the first three weeks. Two years later, Buffalo Bill's Wild West Show spent six months in Paris, then travelled throughout Europe, where the "Peerless Lady Wing-Shot" showed off her shooting skills and tricks. At 30 paces, she'd:
Split a playing card edge-on
Hit dimes thrown into the air – which can even be seen on video
Shoot an apple from her dog's head
Riddle a playing card with holes when dropped to the ground
Blow out a candle
Shoot a cigarette from her husband's lips
It was in Berlin that this last trick enthused Crown Prince Wilhelm (who was later Kaiser Wilhelm II). At his request, she shot a cigarette from the Prince's own lips. Years later, she'd wonder if World War I could have been stopped had she only been a little off in aim.
Continue reading Annie Oakley: The Forgotten History of the Most Iconic American Woman Sharpshooter at Ammo.com.