Discussion Starter
·
#1
·
HELP! Yugo SKS FiberForce Dragunov Stock PROBLEM!
Ok, heres the deal, my dad and I are having trouble with our Yugoslavian SKS we bought a while back. We installed a Fiberforce dragunov stock on it but there is a problem with it. When you pull the bolt back and let go, the bolt carrier travels too far forward and if there was loaded, it would fire. The only way i could get it to fire is to hold the bolt back before it goes that 1 cm too far. To illustrate this i took a couple pictures. Apologies for the quality (webcam) but this should help you understand whats up. As you can see, the bold carrier is to far forward, it is supposed to stay back about a centimeter and then will go forward to fire the round after the trigger is pulled.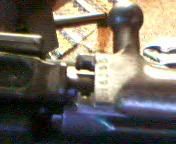 If any1 could help us solve this problem, it would be much appreciated.
PS: The gun worked just fine before we installed this fiberforce dragunov stock