Discussion Starter
•
#1
•
I did a bit of research and found out that typical Red dot scopes that I have on my .22 MKII have been chewed up from rifles/shotguns and/or big bor pistols, BUUUT the laser sight aluminum encased lasers can tak mor punch, so I picked this lil guy up. Its a "Center point" laser sight accurate in low light cpnditions up to 200 yds, daylight rated for 50 yds. BUUUTT my redhawk didn't have the scope rails soooo, I made them. I drew, cut and designed the scope rail and mounting screw grooves all myself, and then re-applied the bead blast finish to blend in with the regular finish.
I'm pretty proud of it. Its the first actual "cuttting, or permamnent" mod I've ever done. Lemme know what you think.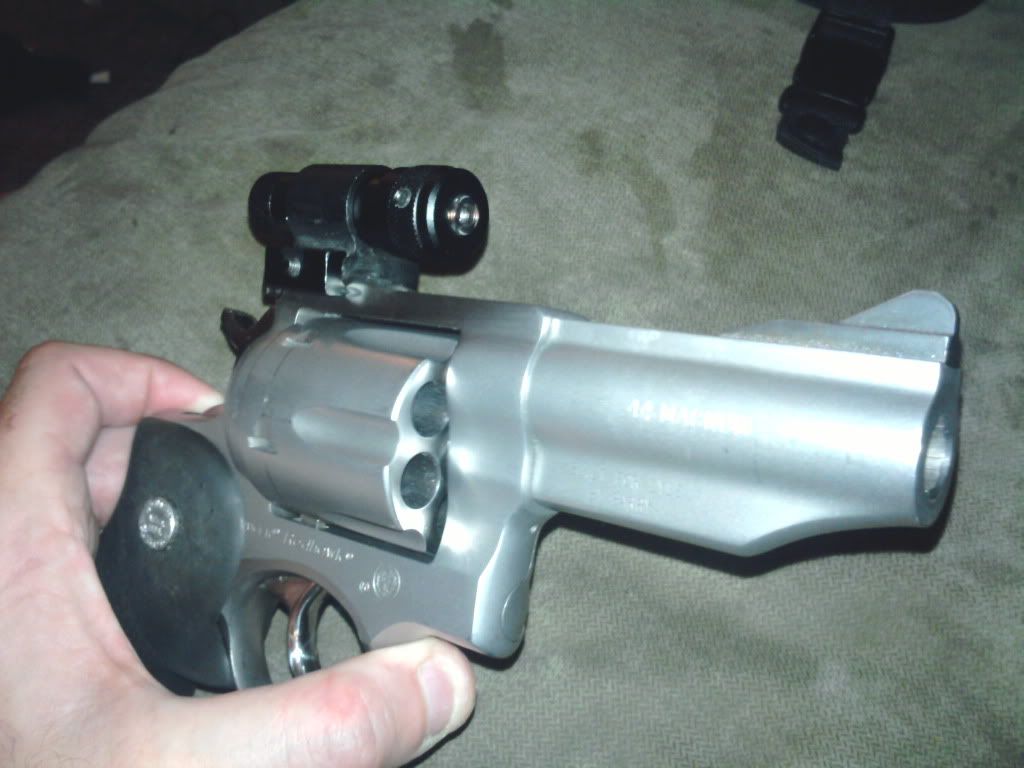 Anyhow, as you can see its mounted very solid. I haven't had a chance to sight it in, but I'm gonna start off with .44 spl JUST IN CASE the shock damages it. I don't think it will. I read about the "red dot" style but they have all the refractive optic lenses that can't ALWAYS take a punch. All this lil guy is just a laser pointer in an aluminum housing.
But just for giggles, would a piece of something like neoprene, rubber, or some soft material between the laser frame and the gun frame take a little wear n tear off it?
Oh and if you look close you can see that the way I did it, I cut it and seatet it to allow to keep the iron sights ON it. So a quick allen wrench turn and my iron sights are still in place and sighted in. Cool huh?