Discussion Starter
•
#1
•
Need help in learning who made this neat "little boys' rifle" pictured below.

I obtained this little fellow recently from one of the Greg Martin auctions out in CA. They had NO INFO on the gun.
There are no markings on it except what is stamped into the PINNED ON rear sight. Yes, it appears that sight was pinned on bass ackwards with the V notch out front!!! However, IF it were turned around it would extend out OVER the chamber opening in the top of the barrel.
The stock is a flat plank with sharp edges rounded and smoothed, finger grooves in each side of the forestock, and NO buttplate. There's NO discernible extractor, and NO safety! I reckon they poked the empties out with a stick . . . (?) SPECS: 20" barrel, 14" LOP, 35" overall, weight 3 lbs. 1.5 ozs., single-shot .22rf (no size specified). Trigger and trigger guard are simple stamped steel pieces.
Everything about it kinda' indicates it could have been made by an airgun manufacturer. Daisy Museum says it's not theirs. Wham-O is notoriously silent about all the .22rf stuff they've made. Sheridan made only their Knocabout pistol.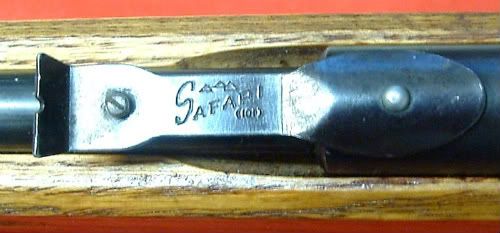 This stamping seems to depict the three pyramids which could denote Africa and alludes to that continent's notoriety for having safaries. The (101) could be a model number. (?)
Have checked all reference books in my limited library, Googled it, checked Wickipedia, wrote the Daisy Museum, and have asked about it on other forums. Nothing! The more eyes I can get looking for it the better my chances of learning who made it, when, where, how many, etc., etc..
If anyone has old back issues of
Gun Digest
from early '50s through early '70s, it may have been written up in their NEW PRODUCTS feature.
Thanks in advance for any help.
Best regards ~ ~ ~ FFF